Battenfeld Ultra Cleaning Kit
February 26, 2018
Nikon Black X1000 4-16x50SF Matte X-MOA
March 5, 2018
Nikon Black Force1000
$359.95
Nikon Black Force1000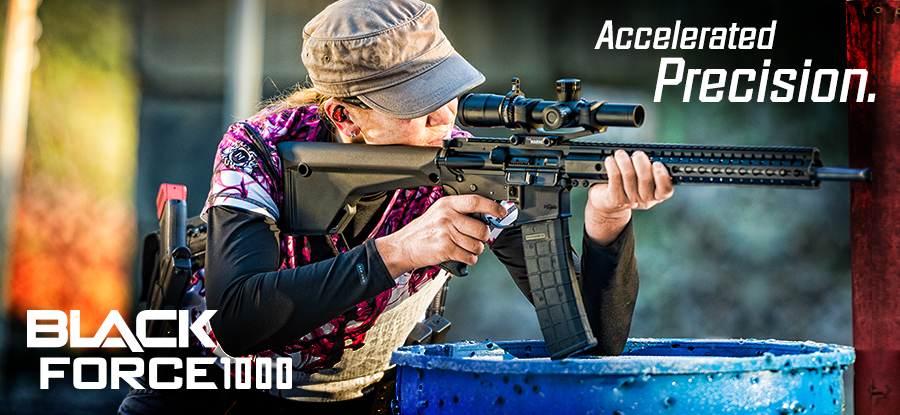 Nikon's BLACK FORCE1000 riflescope delivers extreme targeting speed, repeatable precision and superior accuracy for your AR/MSR platform. With true 1x magnification and 4x zoom designed for both-eyes-open engagement as well as aiming precision for extended ranges, this compact optic's rugged construction and metal-capped turrets assure extreme durability and sighting confidence under the toughest conditions. With a very capable four-time zoom optical system built with Nikon's renowned lead- and arsenic-free glass, BLACK FORCE1000 lenses are fully multicoated with anti-reflective compounds for consistently bright, sharp, high contrast sighting at all magnifications. The BLACK FORCE1000 is built with aircraft grade aluminum alloy 30mm main body tube and finished with Type-III hard anodizing surface finish for maximum ruggedness and long-term durability.

Nikon's SPEEDFORCE Reticle
Featuring a newly developed glass-etched SPEEDFORCE Illuminated reticle system matched to precise MOA adjustments, BLACK FORCE1000 optimizes reaction-speed target engagement at a true 1x at short-to-intermediate ranges and holdovers, lead-offs at longer ranges when at 4x zoom. The side-mounted illumination adjustment features 10 intensity settings (powering down after 1 hour of non-operation) for use in all lighting conditions, including bright sunlight. The SPEEDFORCE reticle is located in the Second Focal Plane and was designed for both reaction-speed target acquisition and engagement, and for intermediate-range target holdovers using BDC circles and hash marks. The SPEEDFORCE is an MOA subtension reticle engineered to enable shooters to continue momentum from target to target and thus, excel in close-to-medium range engagements both in competition and field use. When the riflescope is set at its lowest 1x magnification, the reticle's illuminated double horseshoe serves as quick reference for centering on the target with both eyes open, as well as for establishing moving-target leads.

Full Multilayer Coatings on All Glass Surfaces
Multiple Layers of Anti-Reflective Coating maximize light transmission, brightness and contrast. The lead-and-arsenic-free optical system reduces overall riflescope weight.

30mm Main Body Tube with Side-Mounted Illumination Control
Constructed of Aircraft-grade aluminum with Type-III hard anodizing surface finish for maximum strength-to-weight ratio and optimum ruggedness. The side-mounted illumination control features 10 intensity settings and powers down after 1 hour of non-operation. Spring-Loaded Instant Zero-Reset turrets are engraved for maximum readability and internals provide precise, repeatable corrections while zeroing.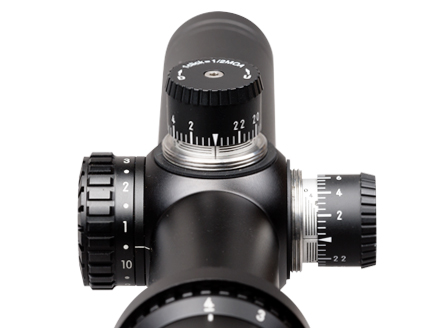 Capped Windage & Elevation Turrets and Generous, Consistent Eye Relief
Consistent eye relief keeps your brow safe, while the exposed turrets are engraved for maximum readability while offering smooth, repeatable adjustments. Turrets are capped for total sighting confidence under the toughest conditions.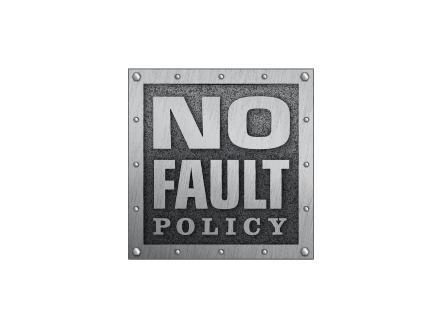 Nikon No-Fault Repair/Replacement Policy*
For Binoculars, LaserForce Rangefinder Binoculars, Riflescopes, Scope Mounts and Fieldscopes
Nikon is dedicated to quality, performance and total customer satisfaction. If your Nikon Binocular, LaserForce Rangefinder Binocular, Riflescope, Scope Mount or Fieldscope requires repair not covered by our Limited Lifetime Warranty, just send it to us and Nikon will at our option repair or replace the product at no charge.
*Excludes lost or stolen products and intentionally caused damage, and also excludes Nikon Rangefinders, StabilEyes Binoculars & Specialty Optics.
True 1x magnification and 4x zoom for both-eyes-open engagement      matched with long-range aiming precision
Quick Focus Eyepiece features a smooth-turning rubberized ring allowing crisp reticle focus
Waterproof, Fogproof O-ring sealed, nitrogen purged for total reliability
Shockproof Construction shrugs off hard recoil and rugged use
LCD, Video and Photo Gallery images are for illustrative purposes only.
PRODUCT SPECIFICATIONS

 Magnification
1 – 4 x
Objective Diameter
24 mm
Exit Pupil
6 – 24 mm
Field of View
@ 100 yds 27.2 – 110.1 ft
Tube Diameter – Other
30mm
Eye Relief
3.8 – 4.1 in

 Eyepiece Outside Diameter
44 mm
Weight
16.4 oz
Overall Length
10.5 in
Parallax Adjustment
Yes
Matte Finish
Yes
Use
AR (Modern Sporting Rifle)